Not a lot happening on this first weekend of February, but there is a nice variety. Guitar concert, traditional archery, family fair… and of course, Setsubun on February 3. There are several ongoing events like Shogo Kariyazaki's flower arrangements in the Yoshida Residence along the Udatsu Historical Street, and the numerous Awakoi workshops being held around Nishi Awa.
Have a Wander-ful weekend!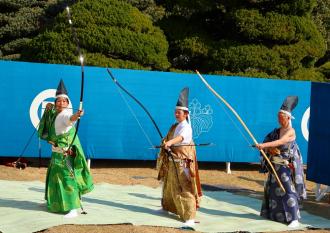 Tarrega Guitar Quartet タレガ・ギターカルテット 徳島公演
2/04 (Sat.) Doors open 13:30, starts 14:00. Place: Aizumi Town Culture Hall 藍住町総合文化ホール (Aizumi-cho). Admission: General 3000 yen, under-25 1000 yen.
Awawa event page (in Japanese)
The Tarrega Guitar Quartet is a group of young talented guitarists (one of whom is from Tokushima) will be making their Shikoku debut on Sunday. With eight hands and twenty-four strings, the quartet will play pieces from Rossini, Bizet, Leo Brouwer, and more.
You can buy advance tickets through the Awagin Hall ticket office or website (088-622-8121 or www.kyoubun.or.jp/index.html) for reserved seats. Same-day tickets are the same price, but will not be reserved seats.
Tokushima Castle New Year Archery  徳島城射初め演武
2/05 (Sat.) 10:30 and 13:00. Place: Tokushima Castle Museum 徳島城博物館 (Tokushima-shi). Admission: Museum admission required (300 yen adults, 200 yen high school/university students).
Awawa event page (in Japanese)
An old ceremony from feudal Tokushima will be re-enacted. Before receiving the new year's greetings from the daimyo (lord), warriors would pray for continued fortune in battle and shoot the first arrows of the year. The 10:30 demonstration will be a chance to see this custom and to watch a rare of display of Japanese-style archery in traditional garb. The afternoon event will have archery by new adults (just became 20 years old) and by students from junior high and high schools.
Wara-ai Fair わらあい市
2/05 (Sun.) 10:00-14:00. Place: Waza no Yakata 技の館 (Kamiita-cho). Admission: Free.
Waza no Yakata event info (in Japanese)
As monthly events are making a comeback throughout the prefecture, the first Sunday of every month is small-town, family-friendly Wara-ai Fair time at Waza no Yakata in Kamiita Town
In celebration of Setsubun, a "nice" ogre will be passing out candy (no need to throw beans at him). In honor of the Sapporo Snow Festival starting this weekend, kids can go on a hunt for mini snow igloos through the inner courtyard. There will also be a Doll Festival flower arrangement workshop (tickets for the igloo hunt and flower arrangement are limited and on sale from 10:00 am).
You can get your back straightened out at the chiropractor booth, listen to live music at 10:00 am, play carnival games (ring toss and shooting gallery), and grab food like udon, oven-fired pizza, soba-gome soup, and miso-slathered gohei mochi.